COVID-19 Update:  We are manufacturing as normal  |  Current average lead time = 4 weeks

Club Identity and Consistency
Have you dreamed of getting your club into the same kit? Has it failed because your kit supplier keeps discontinuing their design every couple of years?
Design a kit and team wear in a colour scheme and style to fit your club.
Unlike many of our rivals, we never discontinue a design because all Zapkam kit is manufactured to order. This allows you to order extra kit in the same club design for as long as you wish.
Turn up at your end of season tournament and be in no doubt which teams are part of your club. Create a consistent recognisable identity.
Our Amazing 3D Kit Designer
Customise the colour of your kit then add logos, numbers, names and initials in few easy steps:
Choose your design and change the colour of each panel
Add your club logo, sponsor logo, numbers, names and initials in a few easy steps
Enter your desired quantity and sizes to quickly generate a quotation and add to your basket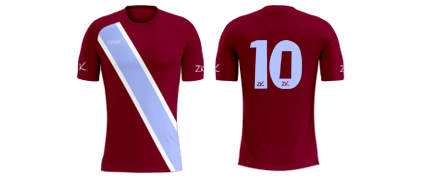 Need Something Totally Custom?
Chances are we can make it.
In fact, we regularly manufacture new designs from basic sketches provided by our customers, across a number of different sports.
If you would like a design that isn't featured on our website, simply request a call back and one of our kit experts will discuss your design with you.
Have you got a design that isn't on our website? Speak to one of our kit experts by requesting a call back...

Request a call back

© Zapkam Limited 2006-2021. Zapkam is a registered trademark owned by Zapkam Limited. The ZK logo, the "We Know About Sport" slogan, product designs and website designs are the copyright of Zapkam Limited and must not be copied without written permission.